Professional Engineer Continuing Education…Made Easy! Made Fast!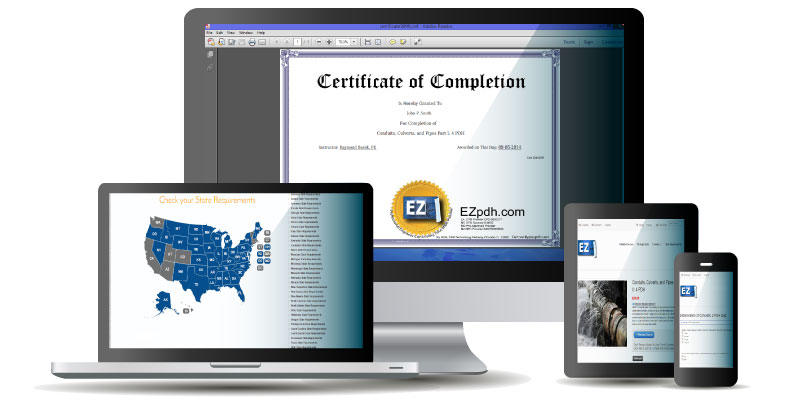 ---
Finish your License Renewal Quickly and Efficiently…
Just Two Steps to Complete
1: Preview Course
Review course material anytime,

before

or/and

during

the quiz. (State Approved courses prepared and instructed by licensed professional engineers.)
2: Take Quiz & Earn Certificate
Take course quiz unlimited times until you pass to

Earn your certificate

and print for your state records. (also..Certificates & records are saved in your online account and can be retrieved anytime.)
---
…Three ways to Save Time & Money
Unlimited Access
Save  a bundle! Full access no discretion – for the engineer who desires full freedom and maybe even a lot of hours. Our ultimate deal with the most savings!
Learn More
Package Deals
Complete Course Packages for as little as $3/hr. Our best creation ever, ideal for engineers who want it done fast, No guess work! No questions asked!
See Packages
Build Your Own
The more hours you add to your cart, the bigger the discount! 8 hrs: $5/hr…15 hrs: $4/hr24 hrs: $3.5/hr…30 hrs: $3/hr
(Discounts applied automatically at checkout.)
Start Building
STATE APPROVED CE PROVIDER
Check your State Requirements
Our Success Speaks for itself…
Thanks the Courses are Great and I'll continue to visit your Site!
Paul A. Miller, PE
Most of all, thanks for offering a cost effective solution to those new continuing education requirement (as if performing engineering work day-in day-out is not adequate continuing education) Your efforts are really really appreciated!!!
Dan Meszeler, PE
Without you guys I was actually considering letting my license lapse, but then I would have had to drop the word "engineering" from my business name. I guess everyone wants control of everything nowadays. Anyway your company has earned my gratitude!
Michael Gordon, PE
Thank you very much for your services and customer support promptness! I will continue to support you as your as the material is quality, the site easy to use, and obviously you have great customer support. I hope that your new company continues to flourish and offer these quality courses with more to come and the very reasonable cost. 
Ken Gould, PE
Professional Staff and Support
Help? Questions? Concerns?
24/7 Email Support and 9 to 5 m-f Phone Support
Plus connect to to any instructor anytime with direct email
Our Licensed Engineers
Instructor: ME
Seth Grablow, PE, holds a Bachelor and Master of Science in Mechanical Engineering from the University of Central Florida and is a Professional Engineer in the state of Florida. Seth has 8 years of engineering experience.
Read More
Contact Seth
Instructor: CE
Raymond Bosek, PE comes from a long line of engineers and has obtained a well diverse distinguished background. From Design engineering to Sales Engineering and to Project Management.
Read More
Contact Ray
Instructor: EE
Juan C. Pesante, P.E. is a professional engineer with over fifteen years' experience in design, construction and commissioning of various types of mechanical, electrical, and HVAC systems.
(Discounts applied automatically at checkout.)
Read More
Contact Juan
…Our Mission

src="https://www.youtube.com/watch?v=BjugmA6PG_A">


Simple! To give our fellow PE's the Most Efficient and Cost-Effective Means possible to complete their continuing education requirements
Seth Grablow,PE EZpdh Instructor: Mechanical